SC Map - South Carolina Maps
---
The geographical center of South Carolina is located at latitude 33.82 degrees North and longitude 80.91 degrees West. This basic map of SC (postal abbreviation for the State of South Carolina) shows Columbia, the capital city, as well as other major South Carolina cities such as Charleston and Greenville. The map also shows South Carolina's Interstate highways plus the Savannah River and several other rivers which run through the state.

More detailed SC maps, both online and printed, are available at the South Carolina Department of Transportation and the South Carolina Department of Conservation and Natural Resources. Visit the South Carolina GIS website for geographic information about the State of South Carolina.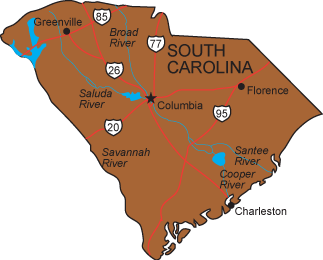 Click any of the state map links on this page to view simple state maps and find state geographic info.
---
Copyright © 2007-2022 State-Maps.org. All rights reserved.
South Carolina map copyright © Bruce Jones Design Inc.

SC Map - State of South Carolina Map