State Maps
---
This state map portal offers free access to political, topographical, and relief maps of each state in the United States of America. On State-Maps.org, you will find a series of printable state maps plus reference and travel information about each state in the USA.

On each individual state map website, you will find that state's size rank and the origins of its name as well as its capital city and other leading cities. You will also find a scalable, scrollable road map showing interstate highways, United States highways, and state highways plus information about commercial airports which offer scheduled airline service. The topographical map and relief map pages describe terrain features, including the highest mountain or elevation and major rivers and lakes. The relief map pages provide access to information about National Parks in each state.

Like their national, county, and city map cousins, state maps are produced in many cartographic formats. In addition to the ubiquitous state road maps and travel maps available commercially, federal and state government agencies publish topographic maps, recreation maps, and geological maps, as well as other specialized maps. Many of these are digital maps that are derived from Geographic Information System (GIS) databases. The state map sources page highlights commercial and government sources for all types of state maps.

Click any state on this United States map to view detailed maps of that state.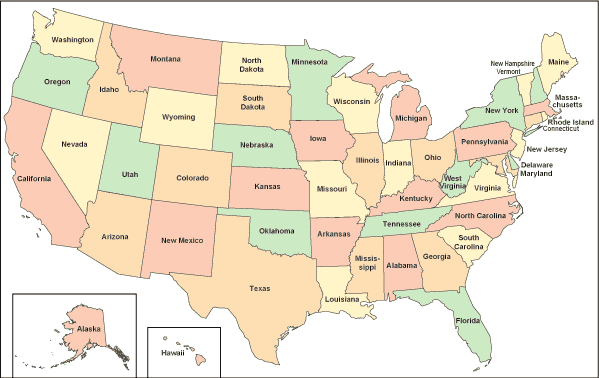 Click on the state map pages listed below to view basic state maps and find maps and GIS resources that are offered by individual state governments.
Related Map Websites
Quick Facts - United States state and regional statistical profiles.
United States Atlas - maps, photos, and reference information.
USA Maps - highway maps, topographic maps, and relief maps.
---
Copyright © 2005-2023 State-Maps.org.
All rights reserved.
About Us
.
Map copyright © Map Resources.
State Maps, Post Office Box 828, Barnegat, NJ 08005, USA.
State Maps